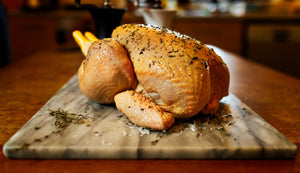 Exciting News; Pasture-raised Chicken now available from Rosewood Farm!
As you may have seen from our social media, last year we welcomed Grassfruits to the Rosewood pastures and ever since we've had customers asking when they can get chicken. We're pleased to say that Grassfruits chicken is now available in the Rosewood shop for delivery along with our popular beef boxes.
Just like our beef cattle, the chickens don't 'free range' over the whole farm but are rotated on the Rosewood pastures so that they are always moving onto fresh grass. This not only benefits the birds with a fresh and healthy diet of grass, herbs and insects but also helps our pastures by scratching and spreading the cow pats (fertiliser), which also reduces the number of parasites for the cattle.   
Although it makes a significant contribution to their diet, unlike cattle, chickens can't live entirely on pasture alone so they are supplemented by organic grain feed too.
---